This comes from Educating Tomorrow, a group that "seeks to build a dynamic community connecting NYC K-12 teachers, administrators, students in teaching, and organizations serving children and schools".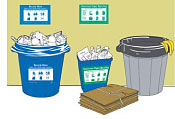 Calling All NYC School Recycling Supporters!
City Hall wants to hear from us! And we NEED YOUR HELP!
A Joint Committee hearing with the Dept. of Sanitation and the Dept. of Education on SCHOOL RECYCLING is set for TUESDAY, JUNE 3, 1 PM. at City Hall.
Councilmember Bill De Blasio will be holding a pre-hearing press conference on the steps of CITY HALL at 12:15 PM. He'll announce a bill calling for school recycling programs in all NYC schools. Plus, he'll introduce legislation to bring back dumpster recycling collection (exactly what we've been asking for)!
Join us in showing the NYC Council how much we care!
Bring your teachers, students, parents and signs! Yes, it's a school day, but a wonderful opportunity to learn about our City's decision-making process. Councilmembers McMahon, Jackson & others, NRDC, the Custodian and Cleaner's Unions will be there too!
We'll have "Be cool. Recycle at school!" t-shirts if you want to order some—they're only $5!
After the rally, the hearing takes place from 1-4 PM. The public is invited to attend.
This is a critical moment: be there! And forward this far and wide!
Be cool,
Micki Josi and Coquille Houshour
NYC School Recycling Action Committee
info@educatingtomorrow.org
www.educatingtomorrow.org